Our Tours
Lovcen and Skadar Lake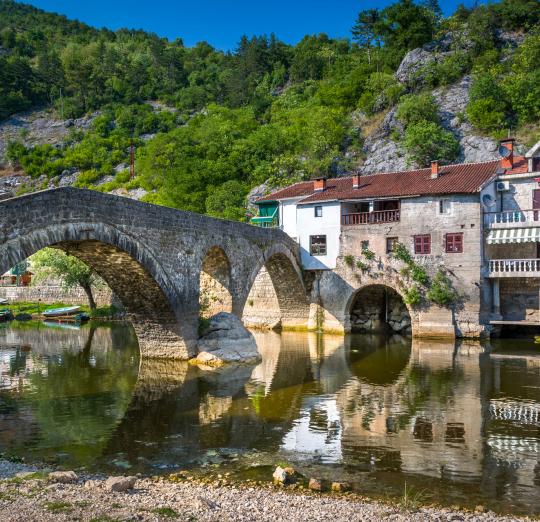 View Photo
This tour starts from Kotor and includes panoramic drive 25 serpentines old road to National Park Lovcen, visiting Mausolem, driving to Cetinje (Old Royal Capital) and visiting Kings Castle (now National Museum), enjoying in the beauties National Park Skadar Lake with 1 hour private boat tour, panoramic drive to Sveti Stefan with 2 photostops, Budva Old Town Walking Tour with some free time and at the end Kotor Old Town Walking tour.
Highlights:
Travel over 25 serpentine road with 2 photo breaks and enjoy panoramic views
Ride through Lovcen and walk up to the Njegos Mausoleum
Explore the local streets on Cetinje, Budva and Kotor
Enjoy 1hour private boat tour on Skadar Lake – Rijeka crnojevica
Learn about history from your friendly and professionally tour guide
Full description
After meeting your guide in Kotor, your journey begins along 25 serpentine Old Austro-Hungarian Road giving you some of the most beatifull panoramic views of Boka Kotorska Bay. After 2 photo breaks, your panoramic ride continues through the National Park Lovcen. It is located in rocky region of Dinara Alps. Slopes of Mountain Lovcen steeply, rise from coastal region of Budva and west part of Cetinje. Park is bordered on South with highway Budva – Cetinje and on North with old Kotor road. "Black Mountain", after which Montenegro got its name, rises to 1749 meters of altitude. Park is 6220 acres large. There are 2000 plants in the Park. This abundance of life is result of extreme altitudes and under influence of two climate zones: Mediterranean and Continental. Their combination at such small space is cause of creation of unique habitat. This Park is over 50 years old and in hearts of Montenegrins for centuries arise strong emotions.
In this Park is Njegos Mausoleum of Montenegrin ruler and poet Petar II Petrovic Njegos. That imposing building with 461 stairs that lead from parking lot to mausoleum itself. Its building started in 1951 and was open for public in 1974. All region of mountain Lovcen Montenegrins consider sacred.
Then, enjoy guided walking tour through Cetinje, exploring Kings Castle (now National Museum) and Cetinje Monastery. Cetinje is a treasure of Montenegrin cultural and historical heritage. It is Old Royal Capital of Montenegro now, and from 15th centry untill the WW2 it was the capital of Montenegro. During King Nikola's reign many embassies were built that give it today's specific looks. Two of the most representative buildings are the Monasteries of Cetinje and Biljarda. Cetinje Monastery was built in 1701 and even though it was destroyed several times, Montenegrin people built it up again. Cetinje Monastery represents the spiritual and political seat of the Montenegrin people.
The tour continues with a panoramic ride through small villages before you descend to the Skadar Lake and to the almost forgotten town of Rijeka Crnojevica. You will make several short photo stops also on the way here. After 1-hour private boat tour on the lake, you will have some free time and also have a chance to taste fish and wine in a traditional local restaurant.
On your way to Budva, photo break above Sveti Stefan will also be included. Along the Adriatic coast, Sveti Stefan, unique town-hotel, is the most extraordinary. It is Montenegro's the most photographed place A fortified island village connected to the mainland by a narrow causeway, its photogenic jumble of 15th-century stone villas overlooks an impeccable pink-sand beach and tempting turquoise waters. In its composition, this city has three churches and all old houses are restored in luxuriously decorated villas that attract the world's jet set. Some of the famous people who visited this magical peninsula are: Sofia Loren, Jeremy Irons, Michael Douglas, Catherine Zeta Jones, Claudia Schiffer, David Beckham, Novak Djokovic even got married in this beautiful place...
During the 1hour 15min Budva Old Town tour, you will learn about the city known as The Queen of Mediterrane. It has been settled since the 5th century BC. The heart of Budva and it's immage are in Old Town which lies on a small peninsula and represents a treasure chest of culture heritage. Explore stone houses and churches, the maze of narrow streets and the small green gardens surrounded by city walls from all sides. Many cultural monuments in the Old Town left a testimony of tumultuous history: the remains of Antic necropolis, Hipokaust, the Church of Santa Maria "In Punta", church of St.Sava and many others. This makes Budva a typical medieval coastal town. Use your free time for coffe break, lunch or shopping...
After exploration of Old Town Budva, our ride to Kotor passes beside famous beach Jaz, one of the most beautifull sandy beaches on the world, the place where even famous "Madonna" and "Rollingstones" had their concerts. Kotor is magical medieval city situated at the end of Boka Kotorska Bay, one of the 25 most beautiful bays in the world. It is a gem of the Adriatic coast, a city on the UNESCO World Heritage List, heavily fortified with the 4,5 km long city walls, built from 9th till 19th century. Meet its narrow streets, squares with strange names, churches, palaces... Learn about living history: Square of Arms, Clock Tower, Napoleons Theater, Homeless pallace, Cathedral of Saint Tryphon, Maritime Museum, Saint Nicholas Ortdox Church, Karampana... Full feel this city where the past meets nowadays in such a beautiful and harmonic ways.
Lets start this tour together!
Itinerary:
Panoramic driving 25 serpentines old road to mountain Lovcen with photostops (1 hour)
Driving to Cetinje (30 min)
Cetinje walking tour, Kings castle visit (National Museum), Cetinje Monastery visit (1 hour 15 min)
Driving to Rijeka Crnojevica - Skadar Lake with few photostops (30min)
Private boat tour (1hour)
Panoramic ride to Sveti Stefan with few photostops (45 min)
Driving to Budva (15 min)
Budva Old Town Walking Tour with some free time (1 hour 15 min)
Ride back to Kotor (30 min)
Kotor Old Town Walking Tour (45 min)
Additional info:
The tour can start at any time we agree about and lasts about 9 hours.
The duration of transfers are approximate, the exact duration will depend on the time of the day and traffic conditions.
Meeting point is in front of The Old Town Main Gate next to the Tourist Info Office. Meeting point for guests from the cruiser is in front of the Port of Kotor.
You can customise it at any time in coordinance with our tourguides. You are allowed to change itinerary, visit some places and sights, or do some activities out of this itinerary. We will do our best to make your private tour unforgettable.
You can request another language speaking guide. It depends on availability and will be charged extra +60€ per tour
Cancelation policy:
For a full refund, cancel at least 24 hours in advance of the start date of the experience.
Please note that this is a private tour and only your group will participate!
Price includes:
 English speaking tourguide
 Private transportation with car or van
 1 hour boat tour on River of Crnojevica
 Entrance fees: National Park Lovcen, Mausolem, Kings Castle National museum, National Park Skadar Lake
 Traditional snack (smoked ham and cheese)
 Tourist taxes
 VAT
Price does not include:
Trip fact
 Group size: Private, maximum 8
 Duration: 9 hours
 Age: for all ages
 Avalibility: all year
 Need to bring: Comfortable shoes, sunglasses, hat and camera
 Note: Take time to explore independently, go shopping...
 Departures: Kotor, Lovcen, Cetinje, Skadar Lake, Budva, Sveti Stefan
Reservation
PRICE by car:

1 person:

230 € per person

2 persons:

170 € per person

3 persons:

140 € per person

4 persons:

130 € per person
PRICE by van:

5 persons:

120 € per person

6 persons:

110 € per person

7 persons:

100 € per person

8 persons:

90 € per person