Our Tours
Kotor Walking Tour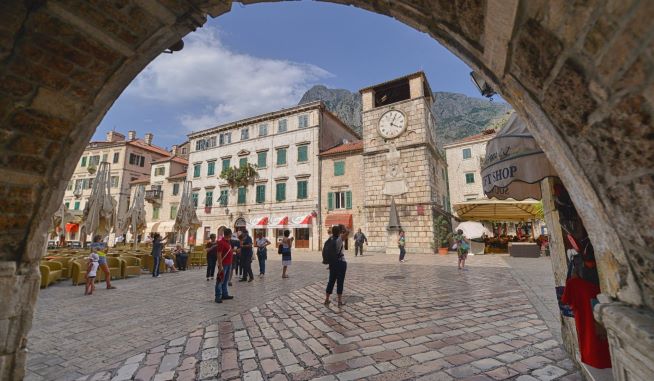 View Photo
Kotor is magical medieval city situated at the end of Boka Kotorska Bay, one of the 25 most beautiful bays in the world. It is a gem of the Adriatic coast, a city on the UNESCO World Heritage List, heavily fortified with the 4,5 km long city walls, built from 9th till 19th century. Meet its narrow streets, squares with strange names, churches, palaces... Full feel this city where the past meets nowadays in such a beautiful and harmonic ways.
Lets start this tour together!
Itinerary:
This tour starts at the Main Sea Gate.
We will walk through Square of Arms, the largest square with many shops, cafes, restaurants and monuments. Stop at Clock Tower and Pillar of shame, historical palaces - Byzanth and Homeless.
Continue through Flour Square - Pima and Bucca Palace - (old family homes of local aristocracy).
Arriving in front of St Tryphon Cathedral, the most important monument from 12th century.
Strolling through the narrow street to the Bokelian Navy and the Maritime Museum square.
On our way is Karampana fountain, in past times the only source of drinking water in town.
We will come to the St Lucas square, St Lucas and St Nicholas church.
Arriving in front of St Mary's church - Blessed Ozana and view the Second entrance to the City (Nord River Gate entrance).
Get across the bridge on the Scurda River and return back.
Stop in front of Grubonja Palace and see the Entrance to the hiking trails to San Giovanni Fortress and Churches Our Lady of Health (Remedy) and St Giovanni.
Take a walk on the fortress beside the river Skurda, where you can see Kampana tower, Napoleons theatre, Providur's palace and Cityguard's tower.
Return back to the starting point Main Sea Gate
Additional info for private tour:
The private tour can start at any time we agree about and lasts about 1 hour
Meeting point is in front of The Old Town Main Gate next to the Tourist Info Office. Meeting point for guests from the cruiser is in front of the Port of Kotor.
You can customise it at any time in coordinance with our tourguides. You are allowed to change itinerary, visit some places and sights, or do some activities out of this itinerary. We will do our best to make your private tour unforgettable.
You can request another language speaking guide. It depends on availability and will be charged extra +30€ per tour.
Only your group will participate!
Additional in for group tour:
The group tour can start at any time we agree about and lasts about 1 hour.
Anyone can participate!
Cancelation policy:
For a full refund, cancel at least 24 hours in advance of the start date of the experience.
Price includes:
 English speaking tourguide
 Entrance fees to Kotor Old Town
 Tourist taxes
 VAT
Price does not include:
Trip fact
 Group size:
-Private tour- maximum 8 persons;
-Group tour - anyone can paricipate, maximum 30 people per group
 Duration: 1 hour
 Age: for all ages
 Avalibility: all year
 Need to bring: ID
 Note: Take time to explore independently, go shopping...
 Departures: Kotor Old Town
Reservation
1 person:

60 € per person

2 persons:

35 € per person

3 persons:

25 € per person

4 persons:

23 € per person
5 persons:

22 € per person

6 persons:

20 € per person

7 persons:

18 € per person

8 persons:

16 € per person